The role of corporates in meeting socio-economic and environmental issues has never been more important. As corporate citizens, the impacts of business activity – through their supply chain, employment of local people and the products and services that they provide, have come into the mainstream. The spotlight has come through the introduction of Section 135 and Schedule VII of the Companies Act 2013 which has mandated companies to dedicate spending to Corporate Social Responsibility activity.
At SAATH, we value corporate engagement in our programmes and recognize the role that business can, and does play in meeting societal needs. Our inclusive approach to partnerships means that we value input from the private sector in ensuring that our activities are meeting all our stakeholder needs. Furthermore, we also understand the business benefits derived for a company from being associated with meaningful programmes that drive real and tangible change in the community: employee recruitment and retention, competitive advantage and best practice initiatives to promote health and safety in their operations, all contribute to public and stakeholder perceptions of a business, and its operations.
Different ways in which Saath can help in CSR are as follows:
CSR Strategy:
Bespoke strategy development, materiality-led and aligned with corporate objectives and positioning.
Integration of CSR and governance policies to enhance sustainable growth, reduce reputation risk and to generate value.
Liaison with the investment community to ensure focused dialogue on CSR and CG commitments and achievements.
Employee Engagement: Attract employees and increase employee retention.
Implementing Programs and Projects: Carry out different projects and initiatives with a holistic approach towards Corporate Social Responsibility leveraging your organizations capabilities and strategic resources of the partnership to address the sustainability challenges faced by the underprivileged communities.
Planning, Monitoring and Evaluation: For continuous monitoring and evaluation process to see the direction of the program, Reporting strategy and report preparation, including Annual Reports, sustainability reports, specific issues reports and on-line communications, Setting up systems to measure, monitor, benchmark and report data – internally and externally.
Saath and Corporate CSR Partnerships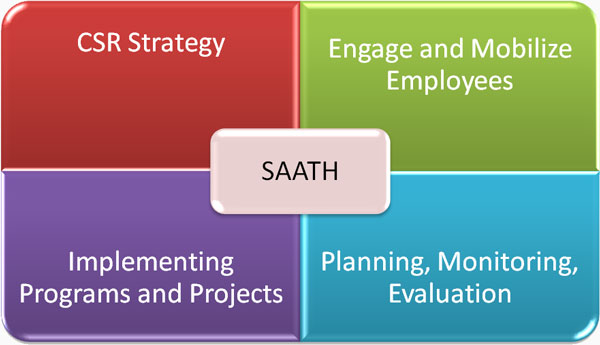 Current and Past CSR Partnerships of Saath
Godrej Salon- (i) Beauty Parlour Project supported by Godrej is currently imparting beauty parlour training to vulnerable women from the urban slums in partnership with 5 like-minded NGOs in Ahmedabad and Baroda. Saath is the Nodal agency for this project and each batch has 30 trainees and on an average 90 women would be trained by each of the partners in a year. The first phase aims to train and place 450 women for jobs in the beauty parlour sector and for the second phase the project will be expanded to other parts of Gujarat and other neighbouring states.
Nivea is a CSR initiative of Nivea through which it is supporting mothers from vulnerable background trying to educate their children. They are lending a helping hand to mothers by providing ration support so that they can focus more on their children's education rather than venture out for work and also stop them from dropping out of school. Currently Nivea is supporting 1 school in Ahmedabad, where 90 children are benefitted.
HSBC Bank is currently the major funder of our Youth Empowerment programme called Youth Force working in 4 cities of Gujarat and Mumbai, Maharashtra. Over 6,000 youth are part of this youth platform and through the platform we aim to provide 25,000 livelihood linkages in 3 years.
KPMG has been providing nutrition support to the children of our education programmes since past 2 years and has conducted over 20+ employee engagement activities with the children.
Ford Motors has partnered with us to provide access to clean and safe drinking water to children of rural villages of Sanand block of Ahmedabad and the programme has currently reached to over 1,000 preschool and school going rural children.
IGATE supported 1 livelihood centre of SAATH in Gandhinagar through which employability training is provided to the youth for 1 year.
HDFC Bank provides support for career counselling to the youth coming at SAATH livelihood training centres across 5 cities of Gujarat.
Shivia Microfinance and Bosch India Foundation supported SAATH for over 2 years for its informal training sector programme Nirman reaching out to construction workers.
IKEA in collaboration with Save the Children India, partnered with SAATH for eradication of child labour from the cotton fields of villages of Dholka and Viramgam blocks of Ahmedabad. The programme reached out over 84,000 child labourers in over 120 villages and in 5 years 9,005 children were released from labour work through the project.
Coca-Cola, NDTV and Charities Aid Foundation in the year 2011-12 worked with SAATH for improving infrastructure of 9 rural and urban schools.
INTAS Pharmaceuticals is currently supporting girl child education by providing support to 10 vulnerable girls of the rural villages around its plant with the help of SAATH.
How to get involved with Saath
You can write to us at vama@saath.org to further discuss CSR partnerships with Saath.