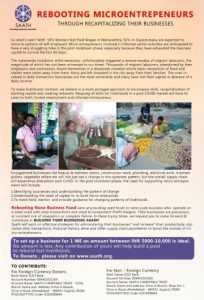 REBOOTING MICROENTREPRENEURS THROUGH RECAPITALIZING THEIR BUSINESSES
May 25, 2020
So what's next? With 59% Workers Not Paid Wages in Maharashtra, 92% in Gujarat, many are expected to move to options of self-employed. Micro entrepreneurs involved in informal sector activities are anticipated to have a very struggling time in the post-lockdown phase, especially because they have exhausted the business capital to survive the last 60 days!

The nationwide lockdown, while necessary, unfortunately triggered a reverse exodus of migrant labourers, the magnitude of which has not been witnessed in our times. Thousands of migrant labourers, abandoned by their employers and contractors, found themselves in a desperate situation where basic necessities of food and shelter were taken away from them. Many are left stranded in the city away from their families. The ones involved in daily transaction businesses are the most vulnerable and many have lost their capital in absence of a daily income. To make livelihoods resilient, we believe in a multi-pronged approach to encompass skills, recapitalization of working capital and creating networks. Mapping of skills for livelihoods in a post COVID market will have to cater to both; formal employment and informal entrepreneur.

Unorganized businesses like beauty & wellness sector, construction work, plumbing, electrical work, rickshaw pullers, vegetable sellers etc will not just see a change in the customer pattern, but the overall supply chain will experience alterations post COVID. In the post Lockdown phase, the need for supporting micro-entrepreneurs will include;
1. Identifying businesses and understanding the pattern of change
2. Understanding the need of capital to re-boot micro-enterprises
3. To hand-hold, mentor, and provide guidance for changing patterns of livelihoods

Rebooting Nano Business Fund aims at providing seed funds to Nano scale business who operate on a small scale with daily transactions and small to non-existent profit margins. Their businesses are precarious, at constant risk of stagnation or complete failure. In these trying times, we request you to come forward & contribute in BUILDING THEIR BUSINESSES AGAIN! Saath will work on effective strategies for administering their business and increasing their productivity, digitize the daily transactions and other supply chain parameters.

Help support the ones who have lost their means of livelihood.
To Donate, please visit on Donate Now.

Since the lockdown, SAATH has reached out to more than 7250+ families by providing Ration Kits and daily meals.