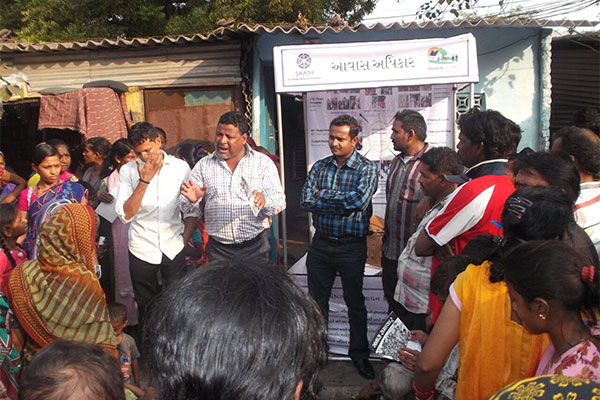 The project runs for proper rehabilitation and resettlement of slum dwellers living on the railway line areas of Surat city.
Need
Cities must promote for all its residents, equal access to housing facilities, civic amenities, services and opportunities for leading lives of dignity. Hence, it is important to strengthen the representation of poor city residents and their voices in how cities are to be managed and governed, apart from creating/utilizing avenues of their interface with municipal governance bodies, local elected representatives and others mandated to work on shelter and housing rights.
Our Intervention
The target groups for the project constitute urban poor informal sector workers which include shelter less communities, communities living in resettlement colonies and slums. In Surat Saath is working in the railway line slum areas of Milindnagar, Utkalnagar, Shantinagar and Ashoknagar areas reaching out to 994 households.
Impact
Till date Saath has facilitated over 702 linkages to the slum dwellers.
Saath in Action
Mangala lives with her husband and three children in Dindoli, Surat. Her husband does embroidery machine repairing work and she runs a small cutlery shop to fulfil their family's needs. During Diwali and Marriage Seasons, she used to take a loan from local money lender at the 5-8% interest rate. But half the profit generated would go into repaying the loan. Mangala met Gitaben, field mobiliser of Samaveshi Shaher programme and talking about it she says, "Gitaben took me to Jan Laxmi microfinance that provided me and 7 other women from our community loan at the reduced interest rate of 1.75%".Mangala got a loan of Rs. 25,000 for which the monthly instalment is Rs. 1,350 and has to be paid in 2 years. She says with joy, "With the help of loan amount I've increased my stock which in turn has helped me increase my income. I had put my jewellery on mortgage and borrowed money for my mother-in-law's operation. We managed to pay back for both. I'm very happy that we are free from the burden of our previous loans and am able to provide better for my family".
Future Plan
The project aims at bringing forward the voices of urban poor into the way the cities are managed.