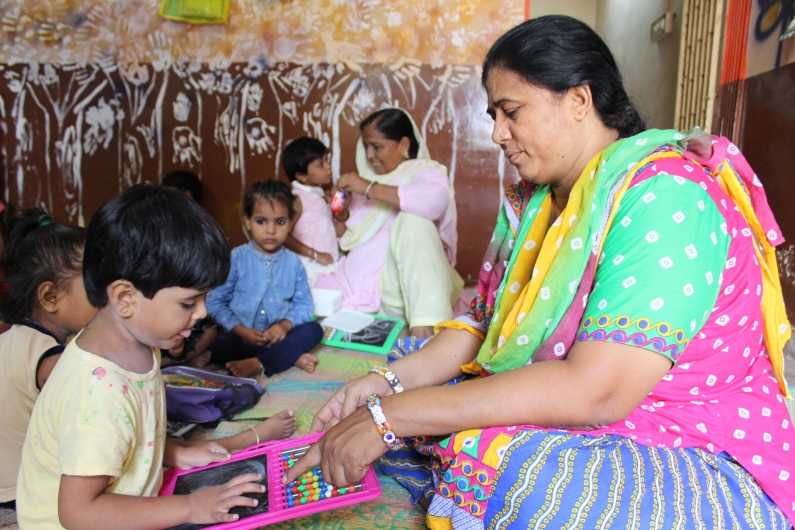 Balghars are preschools for the underprivileged children providing them a nurturing and educational environment to study ahead.
Needs
To ensure holistic growth and development, it is imperative that children have the right environment and nutrition right from the scratch. Children from the urban slums lack nutrition and an appropriate environment that prepares them for school learning. While working with the community in Juhpura, Ahmedbaad Saath noticed a lack of preschools in the area. There is a huge demand for affordable quality learning for holistic development of children in the era of completely commercialized education system.
Our Intervention
Started in 2004, Saath's Balghars are affordable preschools for the urban poor that address the basic growth and development needs of children like: basic education, health, nutritional and recreation. The curriculum is designed by child psychologists with the assistance of teachers and experts. The teachers are regularly kept abreast with latest trends through refresher training. These teachers also visit the homes of the students regularly for understanding the background of the child and updating parents on their progress. Parent – Teacher meetings are organised on regular basis too to provide continual feedback and also address any queries from the parents. The target impact groups for balghars are children between the age group of 3 to 5 years belonging to the socio – economically vulnerable section of society.
Social Impact
Saath has 7 Balghars in Juhapura area of Ahmedabad. Since 2004, 2,226 children have passed through Balghars and after passing have been enrolled in formal schools.
Saath in Action: Saniya teaches her parents how to write their names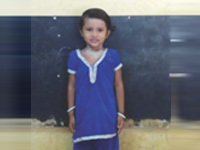 Saniya
Saniya – a 4 year old, is the only daughter of Mr. Seher Ali and Aashiya Banu. She has been studying at the Juhapura Balghar for over a year now. Her father is a fruit seller in the city area of Ahmedabad and earns around Rs. 5,00 – Rs.1,000 per day depending on the sales. Her mother is a homemaker. Saniya's mother mentioned that her family has enough even after providing for the husband's parents, as he the only son of the old parents. Both the parents of Saniya can just barely write their names. They feel overjoyed to see their daughter successfully read and write her name and blossoming into an educated individual. Her mother exclaimed with joy that, "I feel proud to see my only daughter learning so much". The teacher told us that Saniya, is an intelligent and studious child, and she completes all her work and learns things easily. Saniya aspires to become a doctor in the future.
Future Plan
To reach out to children of other slum areas as well and also help the government in capacity building of their Aanganwadi's.