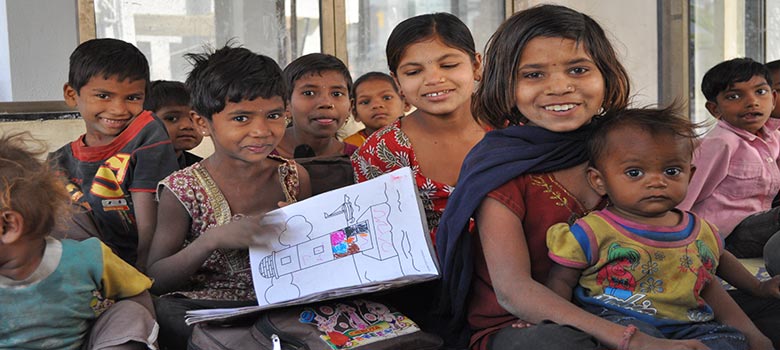 Providing a safe environment to child labourers and children of construction workers with an aim to connect them with schools.
Need
Children of workers at construction labourers have a miserable childhood due to a host of reasons, the biggest one of them being migration from one construction site to another. To add to the misery of poverty, the problem of migration doesn't allow children of construction workers to be stable at one place and get enrolled in formal education.
On the other hand, children in the slum areas get involved in labour work due to weak socioeconomic conditions and lack of proper means of education. The children are in need of alternative spaces for quality education and learning.
Our Intervention
Saath's Child Friendly Spaces was started with an aim to develop interest towards education among, children of construction labourers and child labourers and at later stage enroll them in formal education system. It delivers quality informal activity based learning to these children, provides them nutritive meals/snacks and a safe and secure shelter when their parents are not available to look after them.
Social Impact
Currently, there are 8 Child Friendly Space (CFS) centres; 3 in the slums of Ahmedabad and 5 at construction sites. So far, Saath has enrolled 7,843 children in CFS and 372 out of them have been enrolled to formal schools.
Saath in Action: Transforming a 5-yr old from a house-handler to a school-goer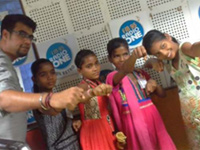 Recently RadioOne gave an opportunity to Nanda and other CFS students to share their experience at CFS in their radio station
Nanda Ishwarbhai Parmar, a 12 year old, has been coming to CFS since last 4 months. She has never been to a school before, except for the 5 months she had spent at Gyan shala, Vasna. Her parents are vegetable vendors, and she has 7 siblings and she is the 5th child from the family who is coming to the centre. Nanda used to manage the entire house in absence of her parents before she joined CFS. She loves to study and specially likes reading Gujarati alphabets, numbers, sums and basics of English. Her Class teacher Sherbanu informed that she would be soon getting enrolled in the Government run school located at Vasna after a formal entrance test. She dreams of becoming a doctor one day. Nanda says, "I feel every house must have a doctor, especially in the wake of emergencies. When I grow up, I wish to serve people who are unwell and cannot afford medical care". Her teacher with a broad smile said, "She is a very wise girl and always seek appreciation from me in terms of good grades and remarks".
Future Plan
To expand our classes to major cities in Gujarat reaching out to child labourers and construction workers children