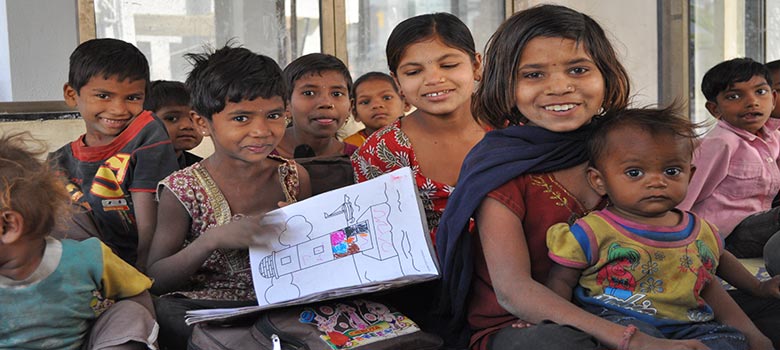 Providing a safe environment to child labourers and children of construction workers with an aim to connect them with schools.
Need
Children of workers at construction labourers have a miserable childhood due to a host of reasons, the biggest one of them being migration from one construction site to another. To add to the misery of poverty, the problem of migration doesn't allow children of construction workers to be stable at one place and get enrolled in formal education.
On the other hand, children in the slum areas get involved in labour work due to weak socioeconomic conditions and lack of proper means of education. The children are in need of alternative spaces for quality education and learning.
Our Intervention
Saath's Child Friendly Spaces was started with an aim to develop interest towards education among, children of construction labourers and child labourers and at later stage enroll them in formal education system. It delivers quality informal activity based learning to these children, provides them nutritive meals/snacks and a safe and secure shelter when their parents are not available to look after them.
Social Impact
Currently, there are 4 Child Friendly Spaces (CFS) centres at the construction sites in Ahmedabad. Saath has enrolled 8,962 children in CFS and 400 out of them have been enrolled to formal schools.
Saath in Action: Fulfilling the dream of going to a school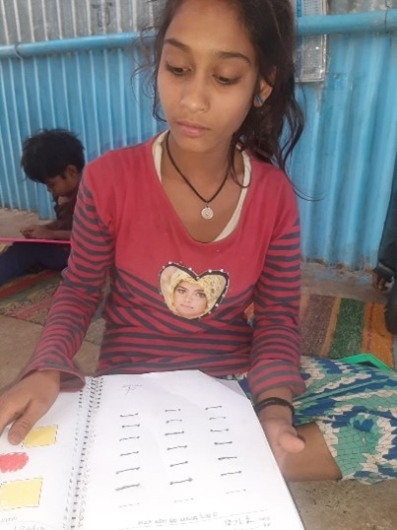 http://m-sar.uk/portfolio-1b/ Roopa Bhuriya
Roopa's father worked as a daily wage labourer in his village. But the income earned was not sufficient to sustain the family of five members. Therefore, he decided to migrate to the city in search of better employment opportunities.
One of his relatives got him to the construction site of Green Glades. Both of Roopa's father and mother have started working on the site of Green Glades from last two months. Roopa was found playing by the teachers in the colony therefore they contacted her parents and asked them to send her to the centre.
Roopa was a shy child. She did not talk much. But she was motivated to study hard. She did not know reading and writing when she came to the centre. But her persistent efforts made her a quick learner. She learnt numbers from 1 to 50 in a week. She has already learnt many things like English and Gujarati alphabets, small words etc. She dreams of attending a formal school.
Our teachers are trying to enrol her to a formal school. The documentation has been completed. She will be joining the school after the COVID 19 pandemic subsides.
Future Plan
To expand our classes to major cities in Gujarat reaching out to child labourers and construction workers children