Vocational training prject for urban slum youth, providing training in entry level jobs and placements after the training
Need
Indian youth in slums represent an ignored section as well as a lot of untapped potential. The youth in urban slums due to lack of higher education, employable skills, awareness and several other reasons do not have enough livelihood opportunities and as a result they are unemployed or under-employed with meager salaries. On the other hand, there is a huge demand of skilled manpower in the manufacturing and service sector.
Our Intervention
Udaan – a programme centric to the underprivileged youth aims to bridge this demand supply gap for the employment of the poor. Udaan was initiated as a continuation of Saath's flagship programme Umeed which was run in partnership with the state government for imparting skill training and short term courses to the socio-economically vulnerable youth. The targeted beneficiaries of the programmes are youth in the age band of 18 – 35 who have not been able to complete their education due to social compulsions. Through Udaan, Saath provides the youth vocational training in the areas of: computer education, personal care and beauty parlor services, retail management etc. and gets them placed in different sectors for employment.
Social Impact
Saath's Udaan doesn't end just at imparting vocational skills. Udaan has trained placement personnel who are in touch with the target industries for the placement of youth trained under Udaan. Below are just a few numbers which bear the testimony of Udaan's success in training and placing the underprivileged youth.er
Total number of Youth Trained: 53,775
No. of Youth Placed: 39,986
At present, Udaan centres are functional across Ahmedabad, Baroda and Nadiad
Udaan: Saath in Action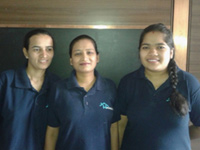 Isanpur Beautician Batch of Udaan
Krishna, Ranjan and Mamta – three girls from a weak economic background enrolled in Udaan center in Isanpur area of Ahmedabad.
Mamta says, "I was already running a beauty parlour of my own but always wanted to learn more, so I enrolled for the course. I have learnt a lot during my training and ample support from the staff. Today I am a professional and it's all because of Udaan."
Krishna, Ranjan and Mamta are working as professional beauticians at Housejoy with a salary package of Rs.16,000, Rs.13,000 and Rs. 21,000 per month respectively after completing their beauty parlour course at Isanpur Udaan centre, Ahmedabad.
Ranjan, formerly a home-maker says, "I was keen about Beauty care sector, hence I joined the course" while Krishna adds, "I was already working at a jewellery shop but that was not sufficing my family's expenditure, hence joined the training which turned out to be wonderful". The stars of Isanpur batch said, "Udaan project is very beneficial for people from low economic background, since it is provided at nominal fees, thus giving an opportunity to them to undergo the training and start earning for their families right away."
Future Plan
Saath plans to take Udaan programme to other States of the Country reaching out to the vulnerable youth