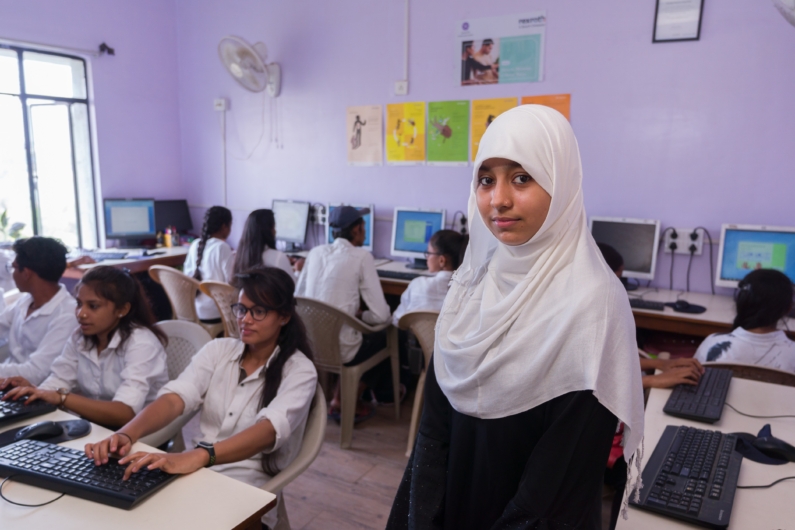 Vocational training project for youth in urban slum which provides training for the entry level jobs and aligns them to placements after the training.
Need
Indian youth in slums represent an ignored section as well as a lot of untapped potential. The youth in urban slums due to lack of higher education, employable skills, awareness and several other reasons do not have enough livelihood opportunities and as a result they are unemployed or under-employed with meager salaries. On the other hand, there is a huge demand of skilled manpower in the manufacturing and service sector.
Our Intervention
This program aims to bridge the demand supply gap for the employment of the poor. Udaan was initiated as a continuation of Saath's flagship program Umeed which was run in partnership with the state government for imparting skill training and short term courses to the socio-economically vulnerable youth. The targeted beneficiaries of the program are youth in the age band of 18 – 35 who have not been able to complete their education due to social compulsions. Through Udaan, Saath provides the youth vocational training in the areas of: computer education, personal care and beauty parlor services, retail management etc. and gets them placed in different sectors for employment.
Social Impact
Saath's Udaan doesn't end just at imparting vocational skills. Udaan has trained placement personnel who are in touch with the target industries for the placement of youth trained under Udaan. Below are just a few numbers which bear the testimony of Udaan's success in training and placing the underprivileged youth.er
Total number of Youth Trained: 54,334
No. of Youth Placed: 40,002
At present, Udaan centres are functional across Ahmedabad, Vadodara, and Kachchh.
Strong Mothers raise Strong Daughters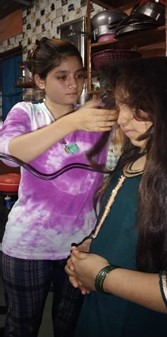 Sana Banu- Khanpur Batch of Beauty and Wellness
My name is Sana Banu. I have been living in Ahmedabad for 19 years. I live with my mother. I lost my father during the COVID 19 pandemic. Amidst the treatment of my father, my grandfather also caught the infection. It became difficult for us to manage the hospital bills and the household expenditures. I started working as a domestic helper along with my mother, but as the cases of COVID increased, we lost our work. With no savings left and no job in the hand, I felt helpless.
 I am the only earner in my house now. As I am educated only till 9th standard, I failed in 4 subjects in the 10th standard I did not continue with my education. After the marriage of my two elder sisters, there was nobody to earn in the family and it became difficult to manage the household expenses.
I started accepting orders of henna for weddings and festivities. My mother and I started earning through this. But I was not happy with my earning. I wanted to achieve more in my life, I wanted to be successful.
I came to know about Saath's training course in Beauty and Wellness trade through a friend. The fees was nominal and the curriculum was interesting. Therefore I took an admission in it. 
As I had some knowledge on the techniques and had a hand in performing makeup, I became a quick learner. I used to help other girls in the class during the practical sessions. With the right amount of practical exposure, I gained confidence quickly. Along with the subject related training we also learnt about life skills- communication skills, personality development, money management, importance of having goal in our lives etc.  This is how I completed the course. I started giving free beauty services to my friends and family near my house to gain exposure and practice.
I started through home service. I am receiving good number of customers now and I manage to earn 5000-6000 rupees every month though I practice on a part time basis. The course has helped me create an identity of a beautician. I will be able to support my family and become independent.
Future Plan
Saath plans to take Udaan programme to other States of the Country reaching out to the vulnerable youth