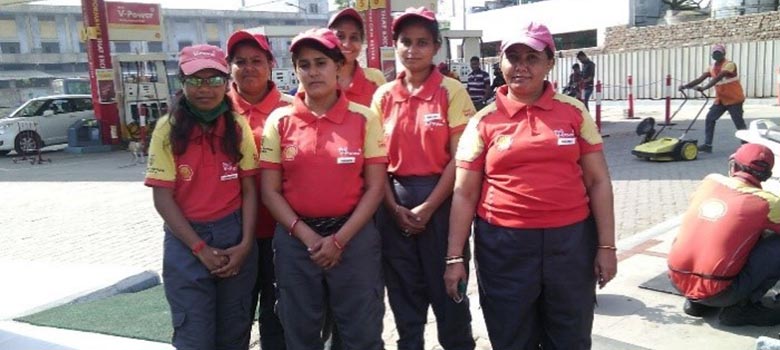 Working towards breaking the stereotypes attached to gender roles and training women in courses which are considered non traditional for them
Need
While India emerges as the fastest growing economy in the world, there are still some sections of the society which consider women fit for only a certain types of jobs. Certain occupations are innately tagged as "males only" and thus women are confined in their choices of works. To empower women holistically, it is imperative that we break such societal stereotypes.
Our Intervention
Saath's Women@ Work was conceptualized with an objective to impart micro-entrepreneurship and non-conventional trade skills to young girls from slums in the age group of 18-25 years. The programme not only aims to empower the young girls financially, but also bring about a discussion and hence a change in the society about their views and stereotypes pertaining to the occupations that woman can take up.
Social Impact
So far, Saath has trained 173 women under its Women @ Work programme.
Non-Traditional Trade (Total 40 girls trained)
Electrician – 32 girls trained
Mobile repairing – 5 girls trained
Sewing Machine reapairing 2 girls trained
Micro Entrepreneurship Training
Ahmedabad – 80 girls trained
Surat – 27 girls trained
Rajkot – 20 girls trained
Baroda – 27 girls trained
Saath in Action: Ashwini – our first electrician!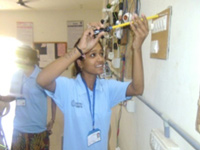 Ashwini – our first electrician!
There are seven members in Ashwini's family. Her father passed away 10 years ago. Her family's monthly income is Rs. 8,000 per month. Ashwini says, "I being the eldest child in my family had to become responsible at very young age. In the future I want to stand on my own two feet and support my mother so that she can be proud of me.
I was always interested in working as an electrician and used to do small repair works within my home. When I came to know about the Nirman electrician training programme I decided to join it and got full support from my family to join the course. I learned a lot during the training and thoroughly enjoyed the course. In the future I want to start a small business on my own and currently will do some small work within my neighbourhood.
Through Nirman and Saath I also got an opportunity to travel and attend a workshop in Delhi where I got to meet other women like me who like me are doing jobs that are considered unconventional for women. These women are doing incredibly good and their strength and passion has also inspired me. The workshop was also a great exposure and an amazing learning experience that I will never forget.
Currently I've got a job working in Divya Bhaskar. Along with it I've been selected as a faculty to teach the electrician course to other women joining the training. I'm really thankful to Saath for putting so much trust and faith in me and I will do my best to meet up their expectations".
Future Plan
In the year 2016-17, Saath plans to reach out to 500 women and provide them training and work support.