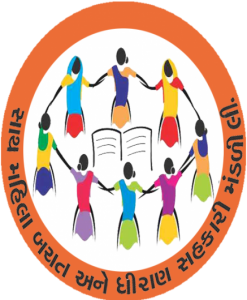 Despite strict laws against child labour in India, enforcement is an issue of a serious debate. There are infinite initiatives by the government and non-profit organizations to curb child labour. Saathalso intervened in the issue through its project called Child Rights for Change, which was functional from 2009-2013, aimed at freeing the children from labour and reconnecting to education. The seeds of Saath Mahila Savings & Credit Cooperative Society Ltd. lie in the works with children.
Need
The Child Rights for Change programme covered 120 villages in the Dholka and Viramgam blocks of Ahmedabad District. Majority of the poor population was involved in agriculture, animal husbandry or labour work. Theincome of the families was not sufficient and children of the houses were the sources of additional family income. This was one of the most common and important reasons for which children used to drop out of school. It was realized that if more livelihood options were generated for adult family members and if saving was given more importance, the life of these poor could be economically empowered. The potential individuals were the mothers and other adult women who were considered the primary care provider and home maker.
Our Intervention
Mothers were thought to be the major change agents to bring about change in the family system. As a result, activities to empower such women were initiated, under which their capacity was enhanced and SHGs were formed. The objectives of these groups are to inculcate the habit of savings which would help them deal with unexpected expenses. These groups give women a sense of independence.
It was taking a momentum and the need of dedicated team and systematic approach arose. This then took the shape of Saath Mahila Savings & Credit Cooperative Society Ltd., which was formally registered in June, 2012.
The cooperative works with the mission to empower women by improving their lives through programmes leading to social and economic empowerment. Also, it envisions that women live in a safe and sustainable environment that includes adequate food, housing, education and health care, and possess the tools to provide a better life for themselves and their families. As important, they have hope, self-esteem and the ability to control their lives and destinies.
Impact
It iscurrently functional in 45 villages of Dholka, Viramgam, Bavla and Mandal taluka of Ahmedabad district.
5800+ women have become members in the span of five years.
It functions on the concept of Joint Liability Group.
It has the savings of Rs. 61 lakhs.
The loan disbursement for the year 2015-16 was Rs. 2 crore 64 lakhs.
Mobile banking has become its strengths.