Household is the unit of the community Saath works for. Saath envisions to not only benefitting an individual but the entire family, which would lead to development of the community at large. When a household is addressed and each member is taken into consideration, the unit as a whole grows together. Finance is one of the crucial factors in this growth process. For this financial empowerment, the two co-operatives are currently functioning. Ever since its inception, it has been growing in leaps and bounds.
Need
While various activities are continuously conductedin the communities, it has been observed that most of the people tend to spend whatever they earn. Sensitizing them merely through money management sessions or lectures does not suffice. A substantial yet gradual process of guiding them and taking a step with them was required. As the proverb goes, "The art is not in making money, but in keeping it." This holds true for everyone regardless of their economic background. Saath believes that by inculcating the habit of regular savings in people, it can help people get rid of poverty. With the aim of making everyone, especially belonging to low income group, aware about their spending and realizing the importance of savings, an informal group started way back in 1994.
Our Intervention
In 1994, Saath Charitable Trust started promoting community based financial services with people who were already associated with Saath. For more benefits of the shareholders, various facilities were added gradually and Saathstarted the Saath Savings and Credit Co-operative Society Ltd. (SSCCSL) as a registered cooperative in 2002.It was started with the aim of building a sustainable community-based organization to provide financial services to the socially marginalized and economically deprived sections of society, in order to eventually reduce poverty and bring prosperity. It also focuses on promotingequal participation of people irrespective of religious, economic and social background, or gender, and to be helpful for their development.
The approach of working is very user friendly. The shareholder has to make a voluntary savings of Rs. 200 per month. Post three months of consecutive savings, he/she becomes eligible for the first loan. After the repayment of the first loan, the member can apply for another loan, and so on. The unique system follows the Joint Liability Group (JLG) of 4-6 members. The repayment of the loan is the responsibility of the entire group to which the borrower belongs.
Impact
Its unique model has led to its expansion into nine fully functioning branches in the city of Ahmedabad.
It has over 20,000 shareholders with a share capital of over Rs. 80 lakhs.
The amount of Rs. 13 crore was disbursed during the year 2015-16
It has a total savings of Rs. 11 crore.
A majority of members are either daily wagers or self-employed, such as plumbers, mechanics, house maids, technicians, packers, vegetables vendors, and micro-entrepreneurs etc., who otherwise would have no opportunity to avail loan with limited source of income.
Significantly larger number of shareholders is women, i.e. 84% of the total member base.
Various savings schemes such as recurrent, fixed deposit, children's savings plans, etc. have been introduced and are in practice to keep up with the banking system. This has been started with the aim of helping members with savings rather than availing loans.
Zahidaben Samadbhai Vohra: A Success Story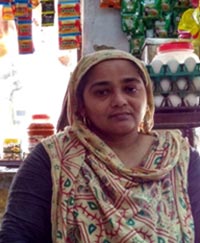 Zahidaben Samadbhai Vohra
Zahidaben Samadbhai  Vohra (47) lives in Juhapura, Ahmadabad. She has come a long way since she availed her first business loan of INR 5,000, from SSCCSL. That was when her husband had to close down his Roll Press Unit. With four children to feed, virtually no skills and education only up to 7th, she started selling cheap confectionery items. Then she came in contact with one of the field staff of SSCCSL, who explained to her the loan model, and the Joint Liability Group model. Just right for people like Zahida, who had nothing to offer in security, except their words or promises for timely payment of loan instalments by each member of the group.
Zahida took her first loan of INR 5,000 from SSCCSL. She gradually expanded her shop, as well as increased the number of items. Now she practically sells everything from wafers to shampoos, from grains to pulses, flours, edible oils, snacks and cooking herbs in small packing. In the course she completed three loan cycles of SSCCSL, during which she availed and repaid loans amounting to INR 10,000, INR 15,000. Currently she is in her fourth loan cycle repaying a loan of INR 30,000. Earning a net profit of average INR 5,000/month, she places order using mobile phone. Though she avoids talking to male traders, and most of the times it's her auto rickshaw driver husband who talks to traders when it comes to selling. She has no hesitation selling items to her male customers, in a Muslim dominated locality, where Pardah is an integral part of the culture.
During these years, she had to meet big expenses like three child births of her elder daughter, purchasing their own house, but she says she survived the challenges with support of her family members, and with this shop, which she established with loans from SSCCSL. She now looks forward to seeking business loan from SSCCSL in her individual capacity. She says she needs to buy fridge to store ice creams and cold drinks. With dreams in her eyes, and confidence on her association with SSCCSL, she knows she would make it in the near future!
For more information:
Web: www.saathcooperative.org
E-mail: mail@saathcooperative.org