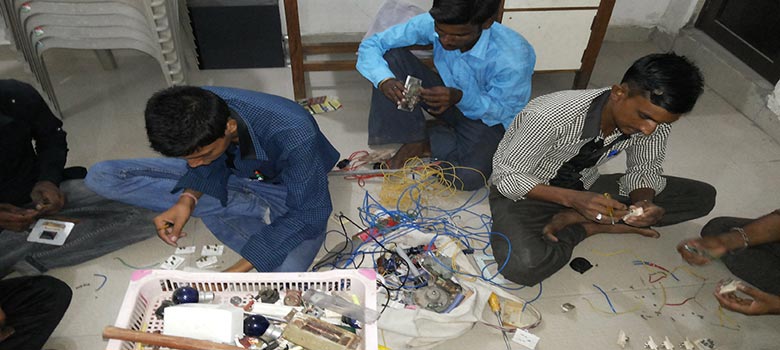 Skill upgradation training for construction workers
Need
Lack of employable skills and awareness is as big a problem as the lack of employment opportunities in the informal sector. On not having the hands-on knowledge and technical know-how for several industries, the workers in the informal sector have to do with meager chores at construction sites. The nature of such employment renders them unemployed for many days in the month or just provide one-time employment opportunity for a few days. What's worse? They have no one to resort to for guidance or no institution to turn to for enhancing their skills to match the demands of the industry.
Our Intervention
Saath's Nirman was started with an aim to resolve this issue. Through Nirman, Saath enrolls and trains the workers in informal sector by providing them vocational training in the areas of electrical work, carpentry, masonry and plumbing so that they can increase their earning potential. This not only results into increasedwages, buttherehavealso been instances where workers trained from Nirman have opened small shops of their own in the neighbourhoods to provide these services. Nirman so far has trained hundreds of such daily-wage workers and has transformed them into trained technicians with higher earning potential and self-employed professionals.
Social Impact
Saath has trained 1,695 workers including 224 women so far in trades of Carpentry, Electrician, Plumbing and Masonry.
Saath in Action: Sumitra's Journey from a Labourer to Skilled worker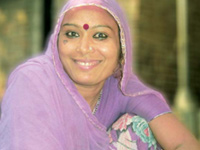 Shantaben Amruthbhai
Shantaben Amruthbhai is a resident of Behrampura and has a family of seven members. To supplement the income of the family; she worked as a helper/labourer at different construction sites for a few years. Shantaben felt that there was no scope to grow for her and learn new skills as nobody was willing to teach her. Moreover the wage was seasonal. She had lost hope that things would change for her. Shantaben came to know about the Nirman Training Programme through the road shows conducted by the SAATH team. She visited the center to get more information about the timings, the structure of the course and the fees. The course was tempting to her since the fees were meager and the timings appropriate. At the training center she got a formal training in Masonry like how to use the tools, how to make cement-concrete mixture and sprinkle water on the plastered walls.
She explains "Along with the training given in the masonry department, I also received training in development of soft skills and was given information about the importance of savings and the necessary safety measures that need to be taken into consideration while working. The training has helped me to enhance my income by Rs.50 per day. I have become more independent then before. I am in a better position to bargain for my wages and work hours. It has enabled me to strike a balance between motherhood and work". She hopes to become a skilled worker someday. Shantaben has become a role model for other women of her community.
Future Plan
To expand to other cities of Gujarat and also reach out to other states where migrants workers come from to work in the construction sector and provide them skill upgradation training, link them with labour department and create awareness for their rights.