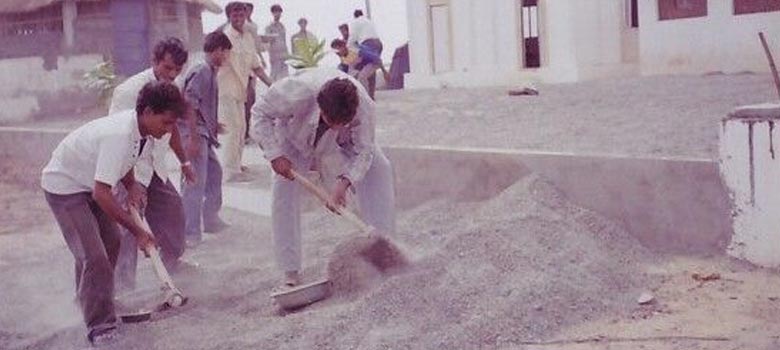 India's largest earthquake struck western Gujarat on 26th January, 2001. As an immediate response, Saath undertook relief and rehabilitation work in the area. It decided to work for the long term integrated development in the Khadir region of Kutch (comprising 12 villages and 5 hamlets).  During end 2002-2003, it also expanded its scope of work in the earthquake affected urban areas of Rapar, Kutch.
Saath joined Kutch Nav Nirman Abhiyan (KNNA), for immediate relief measures. In collaboration with KNNA, Saath carried out rapid assessment of all villages of Bhachau taluka. During this assessment, it decided to work in the Khadir region, since it was affected by the earthquake, was in a remote place, quality of life of the people was very low with respect to health, education, livelihood sources. Saath coordinated the activities at the Earthquake Relief and Rehabilitation Centre in the Khadir region.  It carried out need assessment to identify the immediate necessities of the affected people as well.
Relief and Rehabilitation Measures
Village Committees were formed in all the villages to involve the local people in the decision making process for relief and rehabilitation. Water storage systems were constructed to reduce wastage and ensure equitable availability of water. Material for Interim shelters were provided as construction of permanent shelters would take time and tents did not provide sufficient protection during the monsoon.
Activities with children were initiated through Day care centres in all the villages, with the aim of bringing the children out of the trauma, providing psychological and academic help. First aid and regular follow up of treatment was done for physically and mentally challenged and injured persons. Facilitation of government aid and relief package of old and destitute people, widows, handicapped and injured persons during the earthquake. Distribution of seeds to farmers which was an important need due to the severe drought conditions of Khadir.
Integrated Development Initiatives
Community Health and Trauma Counselling
Education
Livelihood
Permanent shelter construction
Natural Resource Management (NRM) [water, sanitation and fodder management]
Capacity Building, Formation of Village Committees
Based on a detailed health survey, a comprehensive health training programme was designed. Trauma counselling was done for people affected psychologically or physically by the earthquake for which Viklang Mandals and Women Committees were formed.