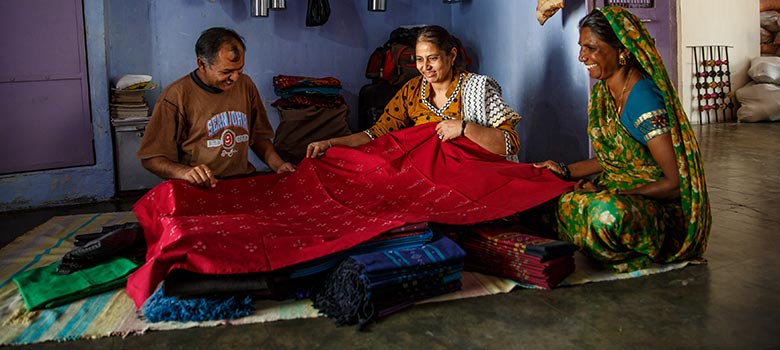 Saath's Rweaves aims to rejuvenate these traditional art-forms by providing business support like: raw material, marketing aid for finished hand-woven products, encouraging participation in art fairs, etc.
Need
Patola> and Tangaliya – two of the most traditional and beautiful weaving art forms from Surendranagar, Gujarat are impending extinction! Reasons: the rural artisans practicing these art forms are struggling to make enough money to sustain their livelihoods. The weavers today are disillusioned of their age-old traditional occupation of weaving and the newer generations don't consider this traditional weaving as a viable means of earning their bread.
Our Intervention
Through such activities, Rweaves aims to support the artisans of Patola and Tangaliya to withstand the stiff market competition. It has supported the artisans to reach out to a broader audience across India by participating in exhibitions-cum-sale and craft fairs and expand their product range by blending the traditional designs with the latest trends.
To shop online
Gaatha.com: http://shop.gaatha.com/index.php?route=product%2Fmanufacturer%2Finfo&manufacturer_id=151
Jaypore.com: https://www.jaypore.com/search.php?q=RWeaves
Visit our store
O/101, Nandanvan V, Nr. Prernatirth Dearsar,
Jodhpur, Ahmedabad-380015
Gujarat
Customer Inquiry
For any product related or other inquiry, please fill the customer inquiry form Customer Inquiry Form
Follow us
FACEBOOK: https://www.facebook.com/RWeavesSLS/
Contact us
Phone: 079 2692 9827, 098 25478722
Email:rweaves.sls@gmail.com
Impact
15-20 Artisans of Surendranagar supported directly by us and marketing for 80% of their products.
Saath in Action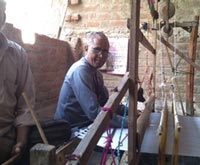 Hasubhai, belongs to the traditional family of Tangaliya artisans of Surendranagar, which was once upon a time had many families involved in the trade of Tangaliya weaving. At present there are only a few families continuing with the work. Hasubhai, had also deviated to agricultural activity since the weavers have lost the Tangaliya market. As a result, he started working in the fields as daily wager and his children could never see their father weaving before them. The agricultural work was helping him earn around Rs.6,000 per month, which was not adequate. So when opportunity knocked his doors, he immediately joined Rweaves. Hasubhai is now earning around Rs. 12,000/- per month and is now a torch bearer along with few others in the village, who have been trying hard to revive the art within village by bringing more weavers back to the fold with assistance of Rweaves. Rweaves also provides raw material support, loans facilitation from RangDe which supports their manufacturing activity for at least 6 months and design innovations with help of designers. Hasubhai says, "Rweaves has shown us the way forward. Most of the weavers in our village have left the profession of weaving and I have been trying to convince them to again start weaving. Rweaves has helped us develop many new products and design patterns, which was originally not seen in the traditional styles."
Future Plan
Revive the Art forms by involving the second generations of Artisans