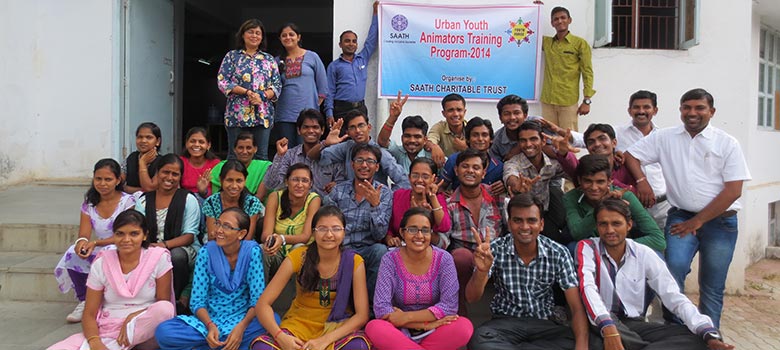 A Youth Development initiative providing complete solutions to youth from urban poor settlements
Need
Census 2011 estimates that 27.4% of India's children live in slums. India's youth is certainly a demographic dividend by they belong to the industry and not idle at home. The youth in urban slums have massive potential and mountainous aspirations but owing to paucity of guidance, information and socio-economic compulsions they often go astray from education and get disenchanted with life. What they need is proper channelization of their energy and diversion of their enthusiasm in constructive activities that can shape their personalities and transform them into responsible and successful citizens of a progressive society.
Our Intervention
Saath's Youth Force was conceptualized with a vision to empower the youth in urban slums to drive a positive change in their own lives and become responsible citizens. Saath's Youth Force today is an apt platform for the youth from the slums to hone their innate talents and grow as individuals. It has been instrumental in holistic development of youth and has inculcated the virtues of team building, team work and leadership in the youth enrolled in the programme.
In its approach, Youth Force forms youth groups where in the youth collaborate to moot over issues corning their neighbourhood, plan and execute activities, drives for a social causes and cultural programs leading to refreshment. These initiatives not only empower them with confidence but also instil in them a problem solving approach. Activities undertaken by youth in Youth Force mainly revolve around environment, self-identity, sports, financial inclusion, health, and skill development and government schemes.
Social Impact
Under the Youth Force programme, Saath has engaged 6,306 youth as the members of the programme, created 74 community youth leaders, touched 14,501 livelihoods, created 776 micro-entrepreneurs, engaged 5,945 individuals in microfinance savings and has provided opportunity to 3,164 youth to participate in job fairs.
Saath in Action: The Journey of a grassroot feminist change maker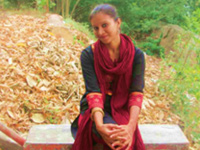 Mital
Born in a conservative community of Babaji's (priests) of Gujarat, where girls are married off at tender age and education is a far cry for them, here is Mital, the bold and enthusiastic women, about to get inducted in the Gujarat police force due to her father's unflinching support in wake of strong resistance from relatives and within the community. Mital in her twenties is from rural areas the sleepy town of Somnath in Junagadh, thrilled with joy and satisfaction for making it to the Gujarat State police forces after years of sustained efforts. Her father retired from service, and at present works as a temple priest. Her mother is a home maker, has 2 older sisters and one brother. She studied throughout from Gujarati medium. Babaji community has strong patriarchal influence, which does not encourage girls to educate themselves. Such regressive and backward thinking leads to young girls getting married off at a tender age, even before they attain puberty. So when her father decided to educate Mital and two other sisters, he had to face stiff opposition from his relatives but they did not toe their line and chose to educate them.
After School, she decided to become police personnel, but there was lack of guidance. She pursued Masters of Social work, besides that she even appeared for police entrance again but could not clear the physical test because of lack of preparation. She joined a government NGO in Kutch near the Indo-Pak border as a community mobilizer after masters but her work was cut short, as her family felt the remote location was unsafe for her, so she came back.
After returning, when she was searching for jobs, she faced issues like eve-teasing her locality. Her work with the NGOs had changed her outlook towards such issues a lot, otherwise earlier her reaction would have been of indifference. She felt that the youth needs to be sensitized towards such issues and they should take the initiative. This led to her joining the Youth Force started by Saath, with a vision of empowering the urban slum youth. She got the chance of planning and implementing diverse activities for youth development as a member and in the capacity of a city coordinator of Rajkot. During her work she found numerous issues of gender biases in the community, which affected her work with the youth groups and especially female members who were not allowed to participate freely. The leadership training, workshops and trips along with the experience of youth force transformed her into a feminist youth change maker.
She again started preparing for the competition and the challenge was even tougher this time on, since she was working simultaneously. She clearly planned out her daily schedule keeping in mind her strengths and grey areas. After following the tough schedule for 6 months, she was selected as armed constable by the selection committee. Mital proudly says, "There is no alternative to hard work. Success comes only to those who work hard for it. Success comes to those who relentlessly move on irrespective of challenging circumstances. Without the support of my parents, and the exposure at Saath, it would not have been possible." Mital looking back in the past says, "If my father had not taken a stand for us, then even I would have been married off at tender age without any life of my own and led a life like any other girl in our community. Mital plans to prepare for the civil service exams, which is her next milestone.
Future Plan
Saath plans to take the project now to Tier-II cities forming youth groups there and carrying out work for their development